All Articles
Written by
Alexandre Diard
The main reason for setting up a performance management program in a company is to search for the highest level of performance for every employee. There are many human resources management systems implemented with effective management tools to help you to achieve this.
This can be further looked in our white paper, we offer 5 tips particularly relevant to effective performance management.
Related article:
What are Staff Appraisals and How to Make Them More Effective
5 Tips to Adjust Compensation and Performance
Performance Management
It is a common misperception that performance management is only about an annual performance review that is evaluating employees on the results they deliver. Although employee performance evaluation is an essential part of performance management, it is much more than that. It is about motivating employees and trying to use their skills and abilities to their greatest potential. Performance management is a way to motivate employees to give their best, develop employee competencies, save the company time, and increase productivity.
Performance management has developed in the last decade and employees are expecting more from their employers. A study made in 2021 stated that:
85% of respondents said that focusing on employee needs and expectations is the key success factor in the competition for talent—the highest level of consensus in the entire study

BCG
Today, the imminent arrival of young people from Generation Z into the business world requires an effective performance management process as they expect to be recognized and rewarded for their individual contributions to the company's performance.
Managers must therefore establish clear and transparent rules, which can encourage motivation and commitment. Simply put, managers set measurable goals and objectives in a detailed way to achieve them through a training program, for example, or during an appraisal interview.
Typical employee performance management focuses on performance improvement in a development plan, accountability in performance feedback and employee evaluations, goal-setting, and the reward of accomplishments.
Although performance management mainly focuses on managing performance of employees, it is also about organizational performance. It is important for managers to optimize their employees' performance as this will boost organizational development. With effective performance management, companies are more likely to reach their business objectives and organizational goals.
How to Execute Effective Performance Management
In order to live up to the expectations of your employees, you need to perform effective performance management. As an HR leader or manager, it is crucial that you have a clear strategy on how to boost and evaluate your staff. In this article, we list multiple things to consider when managing people and their performance:
Staff Appraisals
Staff appraisals, also known as performance reviews or performance evaluations, are regular employee feedback meetings that aim to review past performance and find ways to develop performance for the future. The staff appraisal is an opportunity between supervisors and employees to set and review performance goals, give or receive employee feedback, identify development needs and/or weaknesses, find out motivators, and more.
During a performance evaluation, make sure that both you and your employee feel satisfied with the outcome and have an enjoyable experience. The staff appraisals are meant to help both managers and employees with employee development and are never supposed to leave an employee feeling like they were criticized for an hour straight.
Employee reviews should never contain only negative feedback, but rather focus on goals and performance development. Some tips to maximize your employee performance review are:
1. Prepare in advance
2. Have the reviews more than once a year
3. Accept constructive criticism
4. Separate raise and performance reviews
5. Find out your employees' career plans
There are different types of performance appraisals, and these should be picked with consideration to your HR opportunities and challenges. If you want to learn more about this topic, we got you covered in our in-depth article on staff appraisals.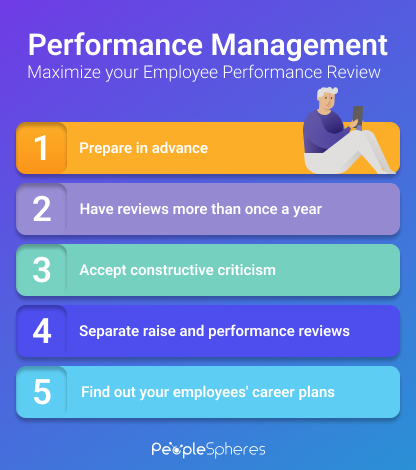 Job Performance in Teams
Not only is it important with performance management within individuals, but it is just as important when working in teams. Therefore, it is important that organizations not only focus on individual performance, but also prioritize team performance. Although you might have individuals with high performance when working by themselves, they might not perform highly when working in a group.
Since teamwork is essential in any business, it is important to tackle the performance challenges that can arise within a team.
If you are looking to improve job performance within a team, consider implementing these 5 tips:
1. Promote appreciation and encouragement
2. Make sure that every team member feels comfortable expressing themselves
3. Resolve personality clashes
4. Win as a group, not as an individual
5. Delegate responsibility and give your employees authority to improve their own work performance
Performance and Compensation
Compensation and employee performance are invariably linked. Many studies have shown that compensation remains the number one motivation for employees. In order to maximize both your employees' and the company's performance, consider deploying performance-based compensations, such as variable compensation and bonuses, that seek to reward employees that contribute to the company's success. A pay-for-performance approach acknowledges employee recognition and rewards employees for their hard work.
Performance Management: Use HRIS Tools
With the use of a cloud-based HR portal (or HRIS), talent management and performance management, they can help establish communication between the manager and the employee about his or her performance. This cloud solution is now being implemented by many organizations– whether in organizational planning, performance management, learning, talent reviews, compensation planning or other HR processes. This importance is also seen in many HR statistics report such as in the 2021 survey on industry trends in HR technology and service delivery mentioned that:
With the accelerating shift to SaaS, many organizations have been able to consolidate disparate technology into a single source of HR data. Increasingly, we see analytics being embedded as part of the HR process.

ISG
In the management system, each employee can easily manage and share employee information in a dashboard, including their potential for improvement, employee goals and company goals, career plans, and skills.
Employee evaluation is done easily with a performance management system. In the HR software, performance indicators such as employee engagement and learning and development are easily accessible to the manager or HR professionals who can monitor the employee progress throughout their career. Managers and employees can also create an evaluation form where an employee can set goals and their performance is evaluated.
A performance management solution also allows an HR department or HR manager to define performance within the company and identify the best members of the team. When it comes to individual performance, top talent can be delegated appropriate job responsibilities or placed in a number of strategic positions in the company. Performance management can also entail creating talent pools without any biases by comparing skills and competencies, identifying skill gaps; and putting in place development and training plans to address deficits.
Talent pools will ensure the replacement of future available positions and reduce the negative impact of turnover as well. Human resource managers will be able to access information about their talent in order to determine with certainty if the employee is a fit for the position or not, according to their skills. Based on a study made by Lattice to how HR will be transformed in 2023, Lattice survey differentiated the decisions between high performing HR and low performing HR. Their study showed that 40% of high performing HR implemented software to reduce bias compared to 21% of low performing HR.
This will create a direct way to create the best talent pools as there won't be any human error into the decision making. Performance management software also makes it possible to retrieve direct reports that evaluate employee performance to create a better system for HR as this will eliminate redundant tasks.