All Articles
Written by
Alexandre Diard
Organizations in all industries, geographic locations, and sizes face the same common challenge: What HR software should we select? This question is one of the most important to answer as it dictates the entire company structure, processes, and even financial stability. This is especially important as HR technology is constantly being innovated. When it comes to the growth of HR technology based on a study in Fortune Business Insights, the market is projected to grow from $23.98 billion in 2022 to $39.90 billion by 2029, at a CAGR of 7.5%.
Finding the right HR software will allow you to attract and retain top talent and much more. But firstly, what is HR software? Are they just management solutions used for HR and payroll as it traditionally was? Or has HR SaaS evolved into much more than that?
Related Articles:
What is HCM Software and How to Select a Provider
The Pros and Cons of Integrated HR Systems
What is HR Software?
HR software is an essential modern application that allows you to renovate and optimize your HR management duties, making it quicker, cheaper, and more effective to accomplish your goals. A software-as-a-system (SaaS) lets HR professionals leverage their existing expertise while integrating and implementing new techniques that save countless hours across HR processes. HR solutions like this can sometimes take the place of paperwork and streamline human capital management.
HR systems can range across all functions of human resources and including:
Applicant tracking system
Talent management
Performance management
Workforce management
Compensation management
Time and attendance
HR payroll
Succession planning
Leave and absence
Learning management
And more…
Modern HR softwares also often offers intranet software, also known as employee portals. Intranet software is a computer network that safetly facilitates information and communication between a set of stakeholders, such as an organization. The employee portals empowers your workforce, serves as an HR self-service, reinforces internal communication, and it available 24/7.
It is likely that you will need several different management software to execute your business processes. While one system will be designed to track time & attendance and allow employees to request time off, another is specialized in documenting every performance review or appraisal and managing employee performance.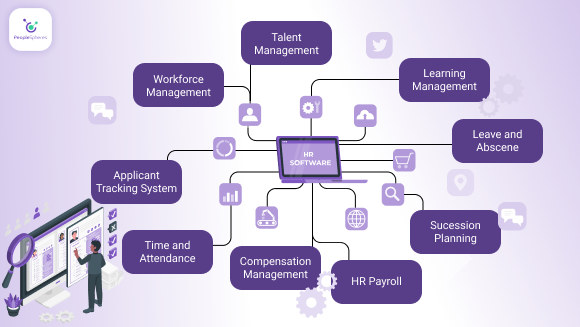 HR Managers and HR Software
Human resource managers play a role in the process of updating and digitizing the company and the human resources department. As an HR manager, it is your role to accompany your work teams, be an ambassador, put priorities in order, and take the advantage of new tools. It is up to you to choose which processes to automate and which services that need to improve by using new digital technologies, such as HR software. There are multiple opportunities to improve the human resource role through digitizing human resources service, and it is HR professionals' responsibility to stay on top of technology trends and decide which HR tech can benefit their company and business processes.
The Challenge of SaaS Sprawl
Saas sprawl refers to the uncontrolled expansion of SaaS systems. Studies show that the implementation of SaaS is higher than predicted and will continue to be integrated as technology keeps evolving in HR:
SaaS adoption is higher than predicted based on the results from the prior survey, Industry Trends in Human Resources Services and Delivery 2019, in which 41 % of respondents expected to be up and running on a SaaS or hybrid solution in 2020.

Study by ISG in 2021
The uncontrolled growth of SaaS systems leads to a loss of control in data projection and resources and can lead to serious consequences for HR. With an increasing amount of SaaS systems offered on the market, it is essential that companies choose the software best suited for their business.
The Different Types of HR Software Strategies
There are many HR software strategies that can be defined, but for this article, let's examine the three main types of HR solution approaches:
All-in-One HRIS
Best-of-Breed Ecosystem
HR Platforms
All-in-One HRIS
An all-in-one Human Resource Information System, or HRIS for short, is software that lets HR activities and tasks occur digitally and gives a comprehensive view of the overall HR functions.
There are many pros to using an all-in-one HRIS. The main reason companies tend to choose this is its centralized nature. It lets employees manage, access, and even automate processes that would otherwise take much longer. Additionally, as it is an all-inclusive platform, integrations are built in. This makes it easy for the entire organization to follow through with an HR workflow.
However, there are also some cons with this type of setup. For one, the price point for all-in-one HRIS is typically much higher than that of the other options. They provide less flexibility as often HRISs are pre-bundled with applications and can require teams to hire a full-time employee dedicated to managing the software.
Best-of-Breed Ecosystem
Best-of-Breed software is commonly referred to as the building blocks for an inclusive ecosystem. They let you mix and match different software to form an ecosystem that acts as a human resources management system. Often, this choice is used as companies are in rapid stages of growth or for large organizations. This is because it gives them the flexibility to switch between different services.
Despite this advantage, having multiple systems that aren't interlinked with each other can cause lag and confusion between HR employees and result in wasted time. As the systems don't share data, things get lost in transportation which can complicate or completely ruin the employee experience. For many companies, this break in the chain leads them to choose the next option, an HR platform.
HR Platform
Cloud-based HR platforms let companies choose different systems and connect them seamlessly through transparent integrations. This HR technology gives the largest of companies the benefit of best-of-breed ecosystems in which they can pick and choose while also giving them the ability to synchronize data between all the systems.
The HR platform serves as an HR Core, a system that enables the centralization of all administrative and employee management. The foundation of the HR platform has revolutionized the organization of HR functions as it proves to be a strategic asset for companies.
Solving this pain point of disparate data from multiple systems eliminates the need for complex, redundant HR solutions that ultimately slow down efficiency. PeopleSpheres HR Platform in particular lets companies centralizes all their HR software solutions without having to sacrifice flexibility if they were to go with an all-in-one provider.
Not only does each HR system connected to the platform help the HR department carry out human resource management duties such as staffing and workforce planning, It also allows other parts of the organization to become involved as they also play an important role in the employee experience.
A connected ecosystem streamlines your HR processes. It allows you to optimize your recruitment process, create HR dashboards that are crucial for HR reporting and tracking, manage access rights, create document templates, improve your internal communication, and much more.
Now that you know the main types of HR software strategies, let's find out how to choose which software to choose for your unified ecosystem.
How to Select the Right HR Software
You may be wondering, with all this technology offered on the market, how do I select the right HR software for my company? There are multiple factors to consider when choosing your HR software, although the most important factor is that you actually modernize your system. Legacy systems will slow down your business and not allow your firm to reach its fullest potential.
Upgrading and modernizing your applications system is important for many reasons and brings multiple benefits to your HR department, including:
1. Automation
2. Time-savings and speed
3. Eliminating redundancy
4. Improving the employee experience
5. Data protection and security
When trying to select the right HR software for your processes, consider the following:
Evaluation of Needs
The very first step to determining the correct HR software that will suit your needs is to determine what are the needs based on the challenges your HR is facing.
Among challenges technology leaders see in 2022, maintaining strong cybersecurity for a hybrid workforce of remote and in-office workers is viewed by those surveyed as challenging by 83% of respondents (40% very, 43% somewhat) while managing return-to-office health and safety protocols, software, apps and data is seen as challenging by 73% of those surveyed (29% very, 44% somewhat).

Study by PRNewsWire
Now that doesn't simply mean your current needs, but as this is an investment, you must project into the future and determine what types of features you may require down the road in your HR system.
Core HR software functions to optimize any HR department, no matter the business model and needs, include:
1. Talent recruitment
2. Performance management
3. Training and development
4. Compliance with labor laws
5. Employee satisfaction
When picking software for each HR function, you must analyze your current software and talk to the people who use it the most. See what the specialists want, what could make their experience better, and what could make operations smoother. With that input, you can start making preliminary judgments on the type of software that will fit your needs.
Then, you must define the expansion and growth strategy for your organization. Will you automate more heavily in the future, perhaps you need more flexibility or integrations as your organization acquires new companies or expands to new locations? Whatever the case, you should try to account for everything and then with those criteria, narrow down your options.
Questions to ask when evaluating HR software
If you still can't determine your needs, some simple questions that you can ask yourself and the team include:
What are the failure points or bottlenecks in the current HR ecosystem?
What is the biggest or most annoying obstacle that you face, and what can improve the employee experience?
What is the most inefficient task that could be automated or streamlined with new software?
Have there been any complaints with the current system from external users or internal users? If so, which ones are the biggest, and will the new software address these concerns?
Will the new software require training, or potentially a new hire dedicated to managing the new technology?
What are the policies surrounding privacy, data security, etc. that may be adversely affected by a new HR software? and lastly,
What are the financial boundaries that must be kept in mind, as well as what return on investment is expected from the system?
Initial Assessment/Implementation
Now that you made your decision and selected the right HR software, it is important to make sure that your employees are comfortable with the new systems in place. It's not enough to select software that offers employee self-service and access to employee records. In addition to improving the employee experience, the new software should be a way to open the conversation for a company-wide change with employees can make them feel more valued.
With that being said, new HR software can be confusing and without the right implementation plan, just selecting the right HR software will not suffice. Employees may need training, convincing as to why the new software is beneficial, or even a transitory period in which the existing service is slowly phased out.
One way to simplify change management is to use a platform approach. The interface stays the same while you switch or add different systems to the ecosystem. The consistency for the user and the ease of the rollout makes this strategy the best option for staying agile.
However, one thing to note is how important it is to take advantage of the onboarding and training that is usually offered by the vendors. This take's the burden off your shoulders, as well as the cost, and protects the integrity of the company.
Integrated HR Systems
You are most likely leaning towards an HR system that is integrated. Core HR is a centralized tool for employee data, which means that you have all your HR systems integrated into one spot. The Core HR can collect all data generated by employees, which constitutes a key database for HR.
Having a unified HR system comes with multiple favors, below we list some of them:
1. No more multiple data entry
2. Data consistency
3. A single source of truth
4. Efficiency in reporting
5. Ease of access
We have a detailed article if you want to learn more about the pros and cons of integrated HR systems.
How the PeopleSpheres HR Platform Gives You the Freedom to Choose
If your business needs are constantly changing or you are constantly outgrowing your current systems, take a deeper look into PeopleSpheres HR Platform. PeopleSphere's innovative HR platform combines the best of all worlds by giving companies the flexibility, responsiveness, and agility to swap different management systems from different vendors while retaining the data flow and synchronization across your HR ecosystem.
The concept of PeopleSpheres is to consolidate and accumulate software and unify them to a centralized point of access.